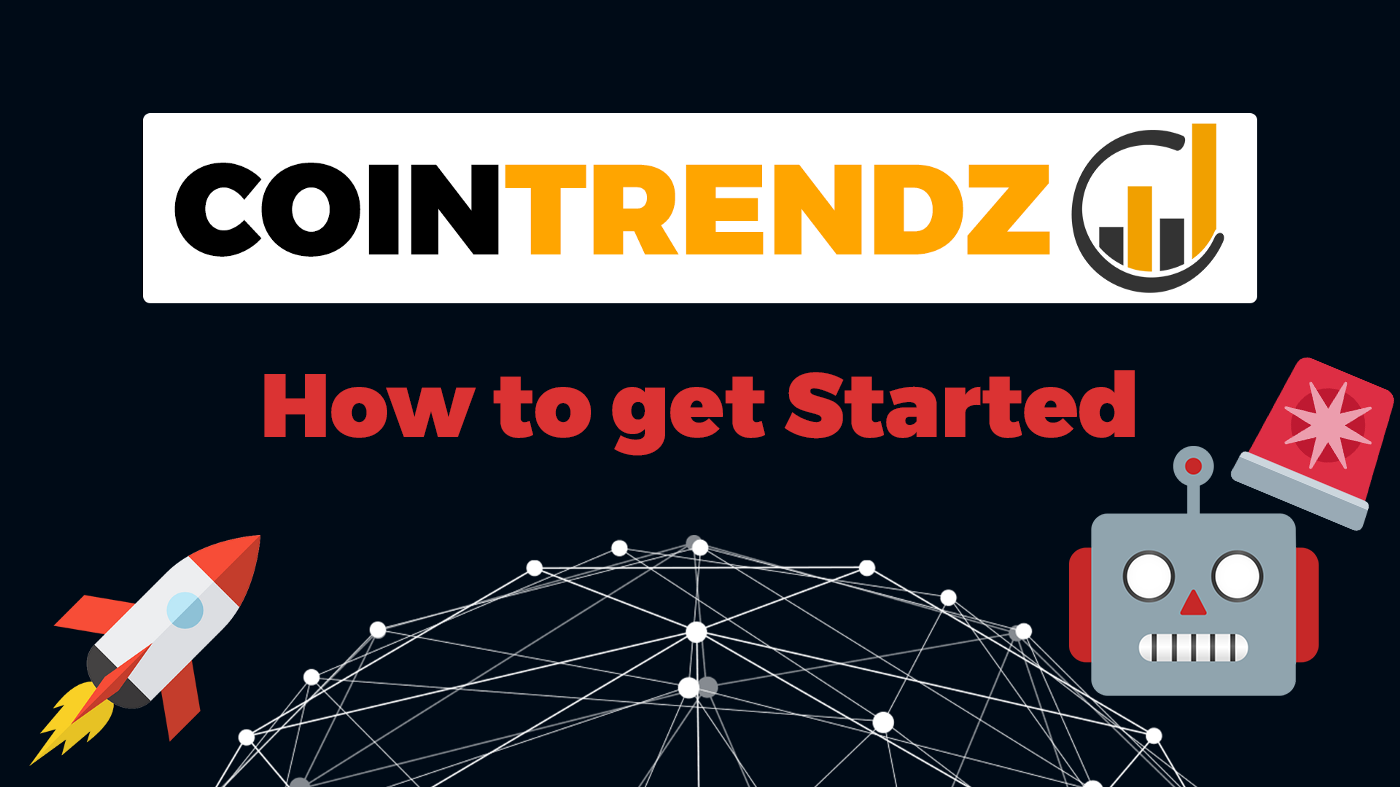 In this Tutorial we want to give you a simple step by step guide on how to setup your CoinTrendz Account and how to use this platform.
CoinTrendz includes the dashboard which can be found on https://CoinTrendz.com/dashboard aswell as the Telegram Bot @CoinTrendzBot. Our platform and Telegram Bot can both be used for 100% free with basic features.
If you want all features from the premium version, you can upgrade to CoinTrendz Premium here: https://cointrendz.com/#premium
Tools needed to use CoinTrendz
CoinTrendz Telegram Bot: https://t.me/CoinTrendzBot
CoinTrendz Account: https://CoinTrendz.com
Telegram Messenger: https://telegram.org

Recommended Exchanges for Trading (optional)
CEX | Binance: https://Binance.com
DEX | GMX: https://gmx.io
Step 1 – How to create a CoinTrendz Account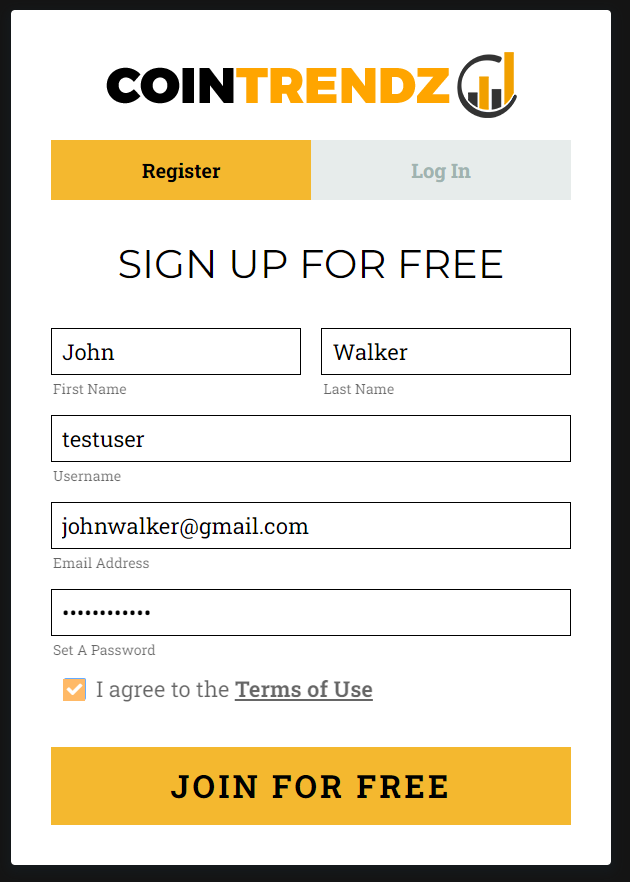 Head over to https://cointrendz.com/ and fill in all your information for the registration. Don't forget to tick the Box "I agree to the Terms of Use". After the registration form has been filled out, click on "Join for Free" to create your Account.
Within 1-3 minutes you should now receive an E-Mail to verify your CoinTrendz Account. Simply click on the verification link in the E-Mail to activate your CoinTrendz Account.
Once your account is active, please login with your previously set username + password and go to https://cointrendz.com/dashboard/
Step 2 – Connect CoinTrendz to Telegram Bot
Once you signed up and logged into your CoinTrendz Account, you can now connect it to the Telegram Bot. This is crucial, so you can receive all the alerts you have set on your account. In order to connect your account to telegram, go to the settings page found on https://cointrendz.com/dashboard/settings. Click on the "Connect Telegram" Button to link your account.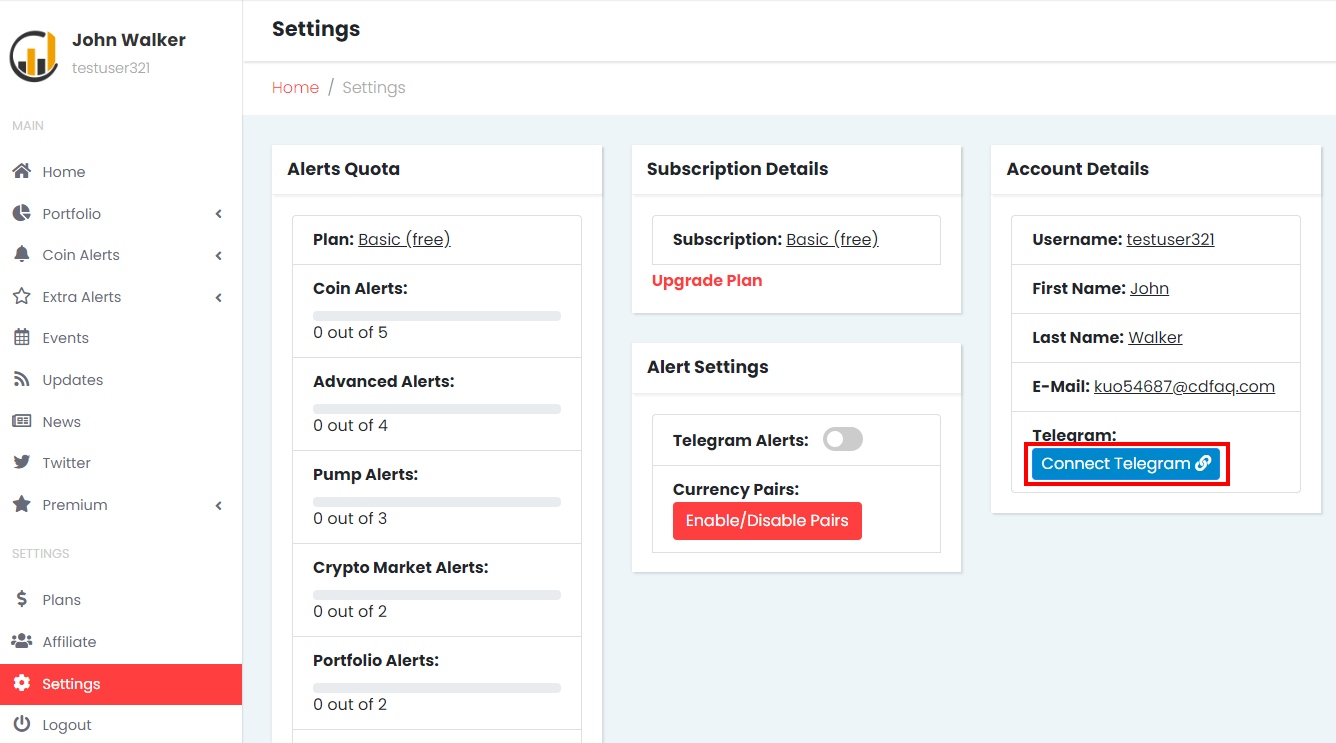 Once Telegram has been opened, it should automatically send a "/start" command to the Bot. You should then receive a notification from the bot, that your account has been successfully connected.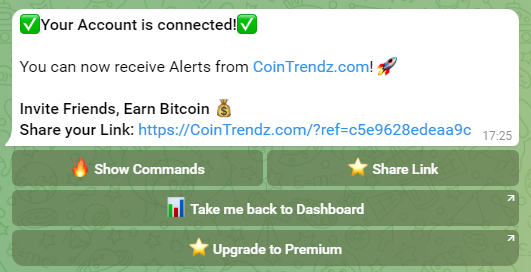 CoinTrendzBot on Telegram now delivers you all your custom signals and alerts from your account. Your account has been successfully connected.
Step 3 – Set Crypto Alerts on CoinTrendz
Back on CoinTrendz.com/dashboard, you can now set all different types of alerts and customize them according to your personal preference. There are a variety of exchanges and trading pairs to choose from.
In this example we are going to create a simple "Pump" Alert on "ETH/USDT" which will notify us, when the price+volume of this market on binance is pumping. This helps us to possibly detect short/long or buy/sell opportunities and get a better feeling of what is currently happening in the markets. In the Premium Version of CoinTrendz, you can also set pump&dump alerts for all markets on a given exchange for example.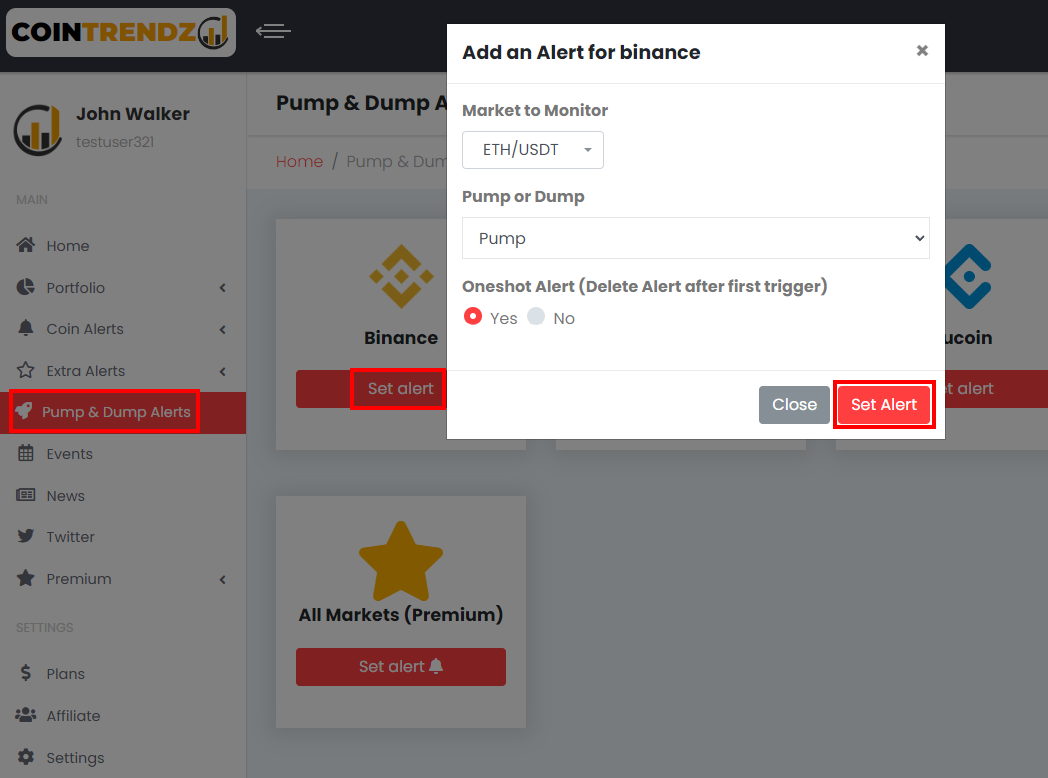 Step 4 – How to use CoinTrendzBot
All the alerts/signals set on your CoinTrendz.com Account, will now be delivered via @CoinTrendzBot right to your Telegram private-chat. Our Crypto Telegram Bot does not only deliver you all the alerts set in your Account, but it can also be used to query crypto prices, charts, news and more. Receive your customized crypto alerts and use the bot to quickly check charts and other information in real-time. This will give you a great overview of what is happening in the markets, helps you to find trading opportunities early and act quickly.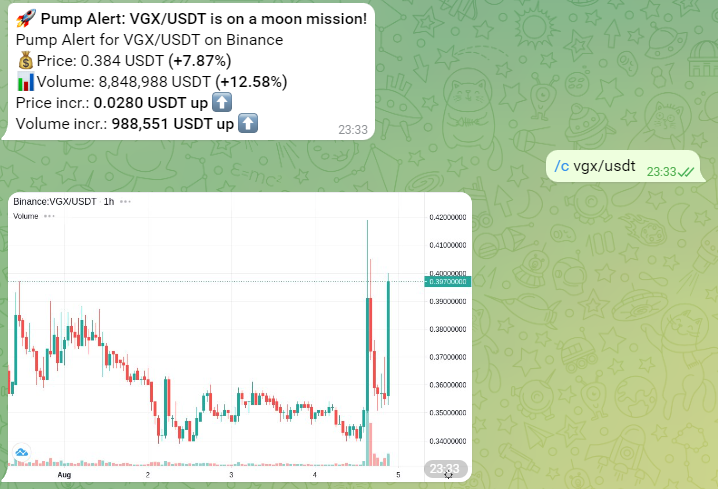 CoinTrendzBot is one of the most feature-rich and widely used Crypto Bots on Telegram. You can even add the Bot to your Telegram Group and use all the commands with your friends. More Info here: https://CoinTrendz.com/bot
You should be all set now and ready to start using CoinTrendz. If you have any remaining questions, please check out our frequently asked questions here: https://cointrendz.com/faq
Thanks for reading and enjoy our platform + telegram bot!
Signup on CoinTrendz Now!