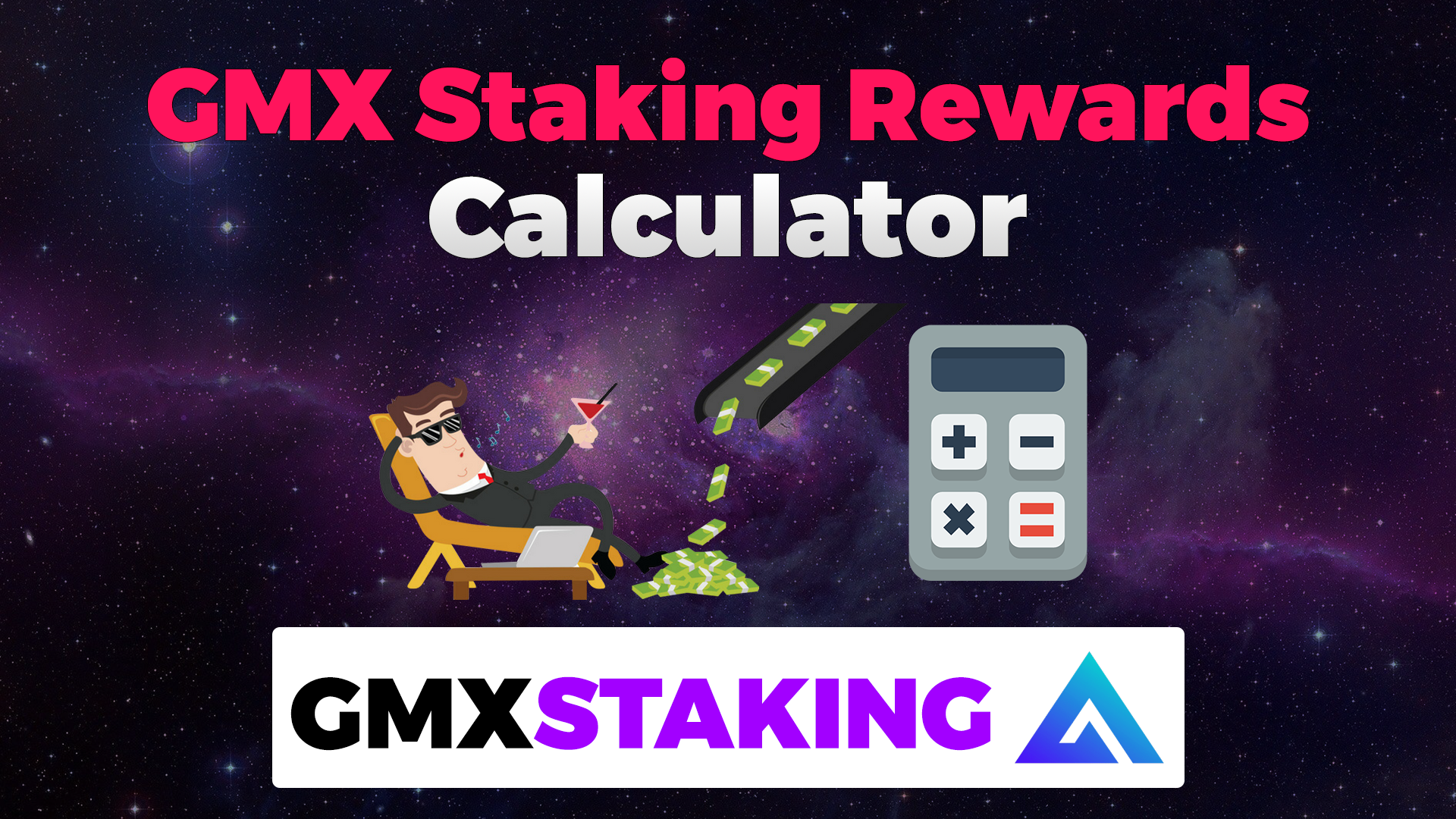 In this article we are going to talk about the GMX decentralized perpetual exchange and how to stake GMX to earn Rewards. GMX is a project on Arbitrum and Avalanche, which is considered a "Real Yield" project that shares 100% of its trading fee revenue with its stakers.
Important Links:
GMX Staking Calculator: https://GmxStaking.com/
GMX Official Website: https://Gmx.io/
What is GMX and what makes GMX Real Yield?
GMX is a decentralized crypto exchange, which offers spot and perpetual futures trading with a leverage of up to 30x. Perpetual trading allows you to leverage your long/short position, increasing potential profits while also risking larger losses. The GMX Protocol uses Chainlink oracles to feed the platform with the token prices to ensure real-time and fair pricing 24/7. Currently, the GMX Trading Platform is accessible on the Arbitrum and Avalanche Blockchain. Because the GMX Protocol is decentralized, it is possible to trade with leverage without doing any KYC checks and disclosing your real identity. You can basically trade anonymously. GMX is considered a Real Yield DeFi project, as it shares 100% of the real platform revenue with its token holders.
The GMX Exchange has two native crypto tokens that serve different purposes, GLP and GMX. 100% of the GMX Platform Revenue gets shared between all the stakers of these two tokens.
The GLP token consists of an index of digital assets used for leverage trading and swaps. It can be minted using any index asset and burnt to redeem any index asset. This is GMX's way of providing liquidity for leveraged trades. It is basically a universal liquidity provider coin, which accrues and pays out 70% of the platforms generated fees.
The GMX token is the utility and governance token of the GMX protocol. Owning GMX Tokens is like owning a piece of the platform and lets you earn "dividends". 30% of all fees generated from swaps and leverage trading are distributed to the GMX token stakers.
By staking the GMX Token, you do not only receive a juicy passive income in Crypto but you can also participate in the growth of the platform. The bigger the GMX Platform becomes, the more valuable GMX coins will become and the more GMX Rewards will get distributed to its holders.
GMX is a perfect fit for the Real Yield Trend going on in DeFi. Its an actual product with Real Revenue, which gets distributed to its GMX + GLP stakers. 100% of the platforms revenue gets shared with its token holders. Meanwhile, GMX has established itself as a bluechip project within the Real Yield narrative.
How to Calculate GMX Staking Rewards
As you can see, its pretty attractive to stake GMX tokens and earn rewards while doing so. A member of the GMX Community has built a GMX Staking Calculator Website dedicated to calculating the Rewards from staking GMX. On https://GmxStaking.com you can simply input your amount of GMX coins you hold and see how much rewards you would earn on it. You can clearly see how much is from the GMX emissions and how much of it is "Real Yield" coming from the GMX Platform Fees Revenue.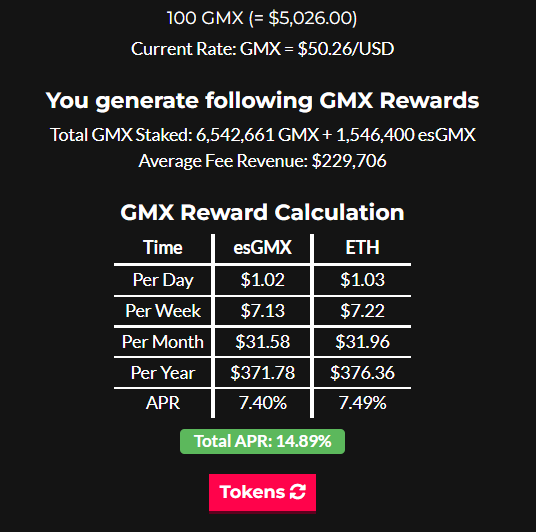 GMX Referral Program
In order to further grow the platform and onboard new users to the GMX Crypto Exchange, they have launched an attractive Referral Program. Invite users and get free discounts + earn rebates from your gmx referrals.
How to create your own GMX Referral Code
Click on the Affiliates Tab
Create a referral code using any combination of letters & numbers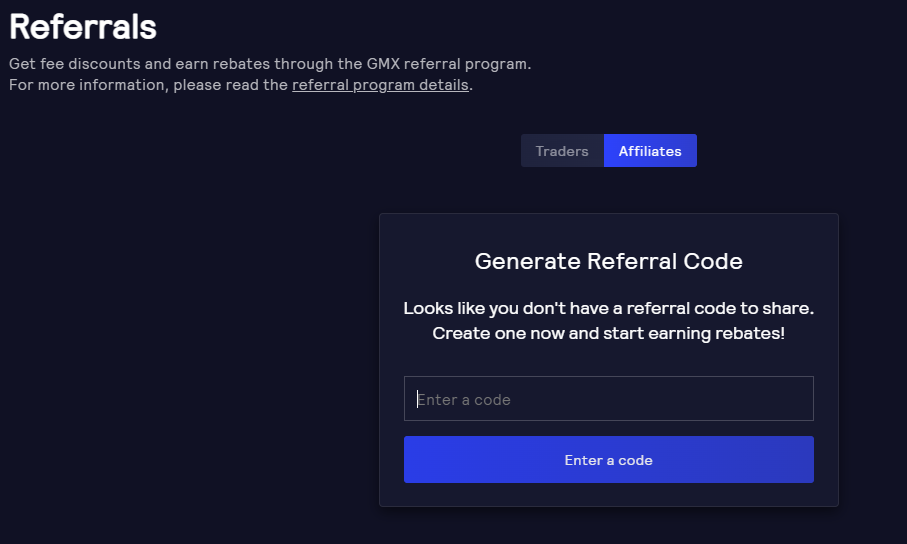 After you generated your Referral Code, you can share this link on any Socialmedia platform like Twitter, Telegram, Facebook and invite users to GMX. When someone clicks on your link, the referral code will be stored with the users account and they will receive a discount in trading fees. So basically they are able to trade with lower fees now, while you earn a share of their fees paid to GMX. Its a Win Win Situation.
The discounts and rebates will be distributed as ETH on Arbitrum and AVAX on Avalanche every Wednesday.
How to lower your Trading Fees on GMX
You can save up to 15% on GMX trading fees by using my referral code.
On the Referral Page, you can simply input the gmx referral code "startnow" and instantly save 10% fees on all your trades on the platform.

This is a great way to reduce your trading costs even further and trade with as low fees as possible on GMX. Enjoy!