In this article we are going to show you one of the best and most lucrate affiliate programs in crypto. Advertise the CoinTrendz Platform on your Blog, Youtube, Socialmedia Channels, Telegram or elsewhere and get paid for it! Earn a recurring Passive Crypto Income by promoting our Website and Services.
What is CoinTrendz?
CoinTrendz is an All-In-One Crypto Dashboard, where you can set all kinds of custom crypto market alerts, manage your crypto portfolio, check the latest crypto trends, news, events & more! Monitor your favourite cryptocurrencies and get notified on trading opportunities! CoinTrendz offers an innovative Crypto Market Telegram Bot, which alerts you in realtime and helps you spot opportunities quickly before the masses do. CoinTrendzBot is one of the leading Crypto Bots on Telegram.
How does the CoinTrendz Referral Program work?
CoinTrendz offers one of the most profitable and attractive Crypto Affiliate Programs out there. We have a very high conversion rate and offer a variety of useful Crypto Tools & Services to our users. As we have low operating and maintenance costs, we can offer a higher than normal Revenue Share to our Affiliate Partners. Promote the CoinTrendz Platform anywhere and earn a Lifetime recurring Passive Income on your paying Referrals. No Limits. Win-Win!
We offer a first-time Bonus of $10 AND a 20% recurring commission on all sales you generate, for as long as your referrals remain customers, including renewals and upgrades of their CoinTrendz plan. Earn even more, if your referral upgrades to a yearly CoinTrendz plan.
If you want more information on how the CoinTrendz referral program works and its terms of use, please check following links:
CoinTrendz Affiliate Program: https://cointrendz.com/affiliates
Affiliate Agreement: https://cointrendz.com/affiliate-agreement
How can I invite users and start earning?
First, create an account on CoinTrendz through this link: Signup on CoinTrendz
After you successfully signed up and logged into the CoinTrendz Platform, navigate to the Affiliate Page on https://cointrendz.com/dashboard/affiliate.
On this page you will now have an overview of all users you already invited to the platform, how many of them turned into paying referrals and purchased a paid plan. You can check how much Crypto Affiliate Income you already collected and request payouts.
Every Affiliate Partner will have a different "custom referral link" as seen in the image below. Simply copy your personal "custom referral link", share it across socialmedia to invite users to CoinTrendz and start earning passive income!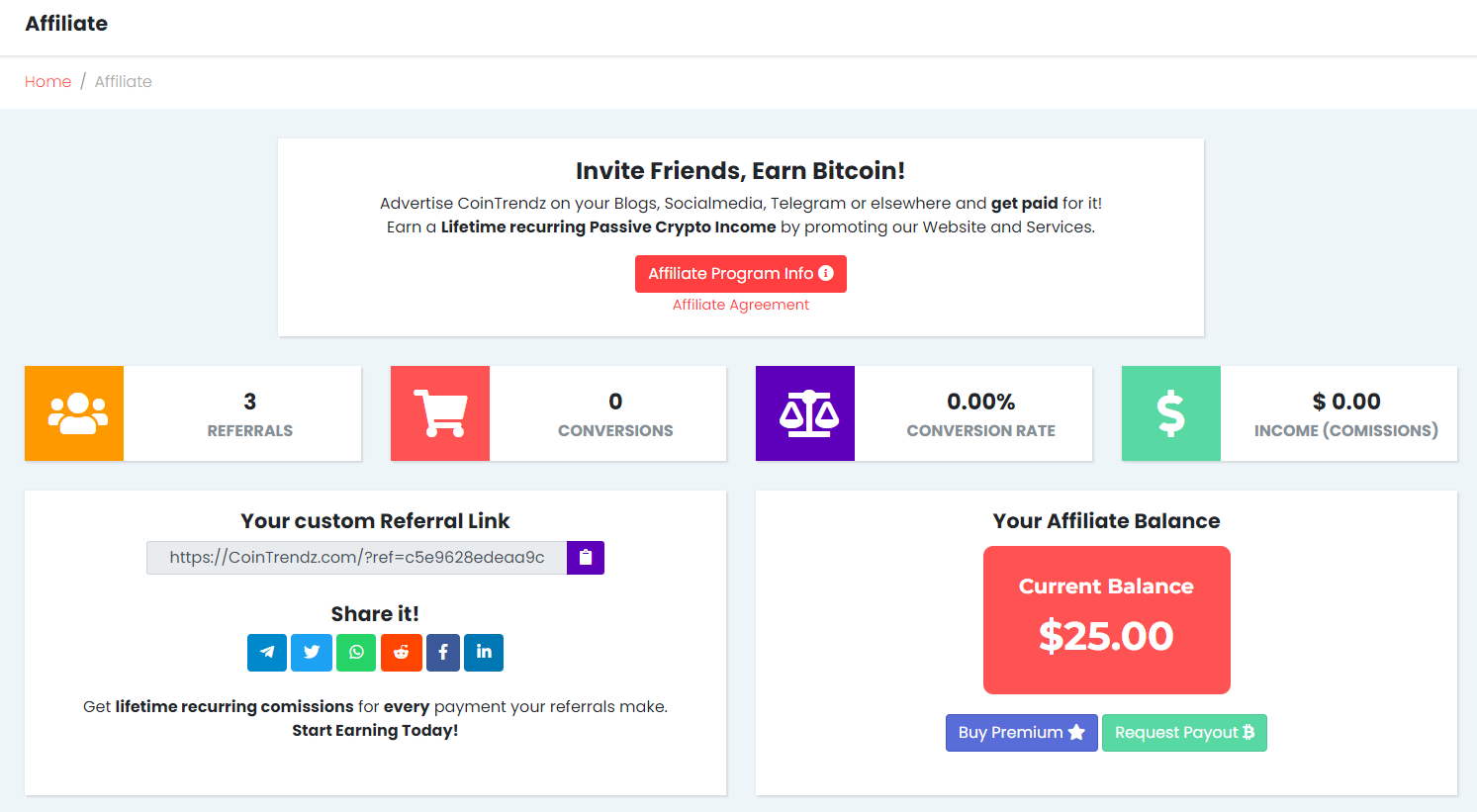 Lifetime Crypto Referral Comissions?
Yes, you heard that right! CoinTrendz is committed to the success of our affiliates and strives to offer the best crypto revenue sharing model out there. With us, you can earn comissions for a lifetime, as long as your referrals remain paying customers. It's a recurring comission and we will not limit how long you can earn.
How much Bitcoin Referral Comissions can I earn?
There's no cap on earnings. The more accounts you refer, the more you earn! On the CoinTrendz Website, there is a simple calculator that shows you how much you can earn by referring a few hundred users to the CoinTrendz Platform. Check it out here: CoinTrendz Referral Bonus Calculator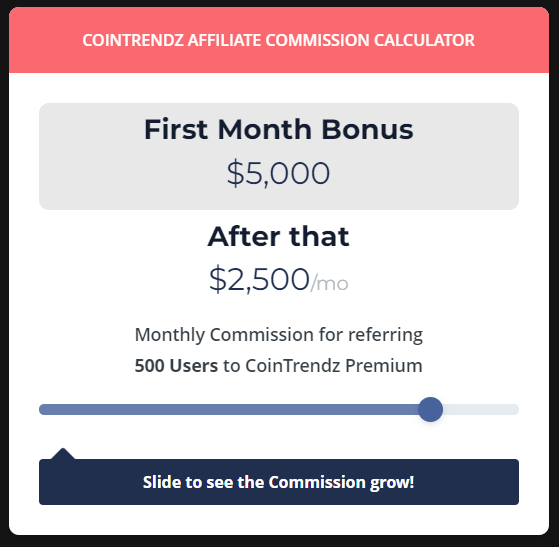 As a CoinTrendz Affiliate, you'll earn 10$ for every new acquired customer. After that, you receive a 20% recurring commission for as long as your referral remains a CoinTrendz Customer. When your referrals renew or upgrade their Subscription, you continue to earn! Your Referral Bonus will be paid in Bitcoin.